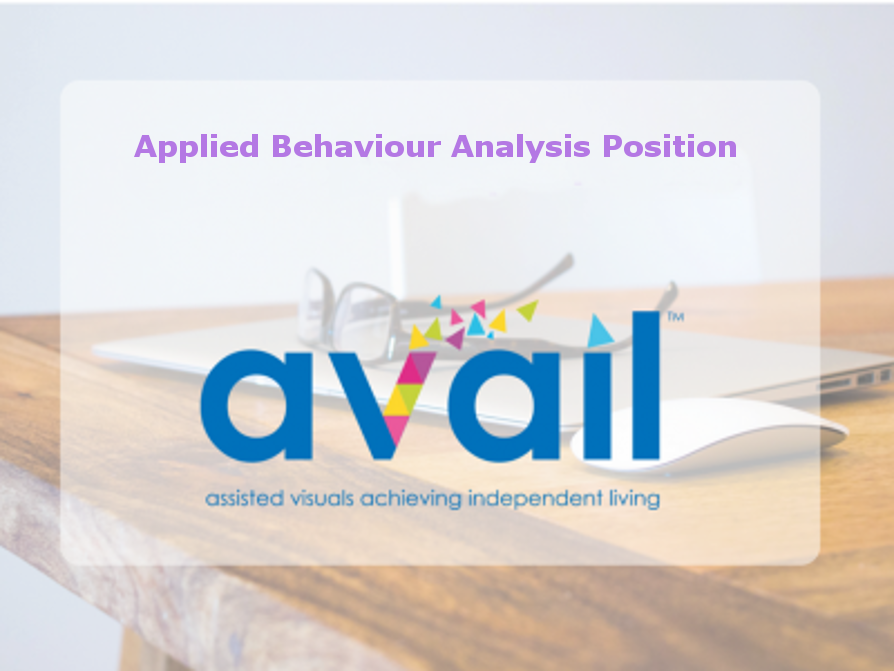 Applied Behaviour Analysis (ABA)
avail® support ltd
 – Dundalk, County Louth
To apply for this position click here
Job Description
avail®™, a high growth startup in Ireland are looking for an experienced ABA clinician to join our company as a part-time Subject Matter Expert (SME). You will act as the primary source of ABA and specialist within the company, engaging with clients and internal departments as our subject matter expert.
It is a great opportunity to get in on the ground and to develop the role as avail®™ expand into different regions. This is both an exciting and critical role in the development of avail®™ to provide key input into many programs across the organisation.
This is a part time position, 1-2 days per week. Hours are flexible and most work will be done remotely, with occasional meetings at company's or customer's offices.
About avail®™
Avail Support Ltd is an award-winning healthcare and technology company founded in 2015 to help children and adults with cognitive disabilities to learn the essential skills that they need to live independently and confidently. The avail®™ platform is a mobile technology solution developed on upon clinical research and therapy, empowering children and adults. The innovative software utilizes principles of Applied Behaviour Analysis (ABA) to create outcome-based goals, developing essential skills and confidence of learners.
avail®™ engages with partners, companies and associations to create and implement quality programs for learners, maximising service resources, and providing reports and data analysis.
avail®™ is a researched based solution for acquiring and reinforcing skills necessary for achieving independence across all domains, such as adult services, employment, independent living, behavioural health, schools and education. Be the change you want to see in the world, join us!
Responsibilities
avail®™ is a high growth startup, so responsibilities will change frequently and at short notice… you can be sure no two days will be the same! At a high level though the responsibilities will include:
Training & Presentation
Support the development of a number of train the trainer programs.
Complete training session, both onsite and remotely to customers and partners.
Attend a number of conferences per year as part of the avail® team.
Contribute on webinars on the topic of ABA and avail®™.
Participate in sales activities with opportunities. Assist with product demos (remotely via screen share) for potential customers.
Internal Subject Matter Expert
Act as internal reference for all things ABA, ranging from management questions about ABA theory, developing training materials, to insight on insurance, to the structure of the market, to improvement of reports included in avail®.
Assist the ABA Program Management team in translating behavioural theory into guidance provided by avail®. This requires careful, thoughtful work to provide precise, concise and accurate guidance that avail® will deliver.
Support the internal teams such as the services and product through bringing clinical/therapy expertise in different initiatives.
Development of quality case studies through engaging with clients and using analysis of data gathered from learner and facilitator activities.
Product Content Support
Create outcomes and tasks, following ABA and task analysis principles, to support the development of a comprehensive library of content.
Experience & Skills
avail®™ is interested in working with great people, from varied backgrounds. Here are the experience and skills that would be beneficial for the role:
First-hand experience with delivering ABA therapy to children/adults on the ASD spectrum as a clinician: you need to understand how ABA therapy delivery works in the real world and how avail® will make it better.
Comfortable with technology (PC, tablet, smart phone): you'll need to understand how to set up, create and assess programs using avail®.
Experience with teaching/presenting on the topic of ABA.
Strong organisational, written and communication skills.
Experience working in teams, leading projects and grant writing an advantage.
Experience working in a B2B customer environment an advantage.
Job Type: Part-time
Required education: