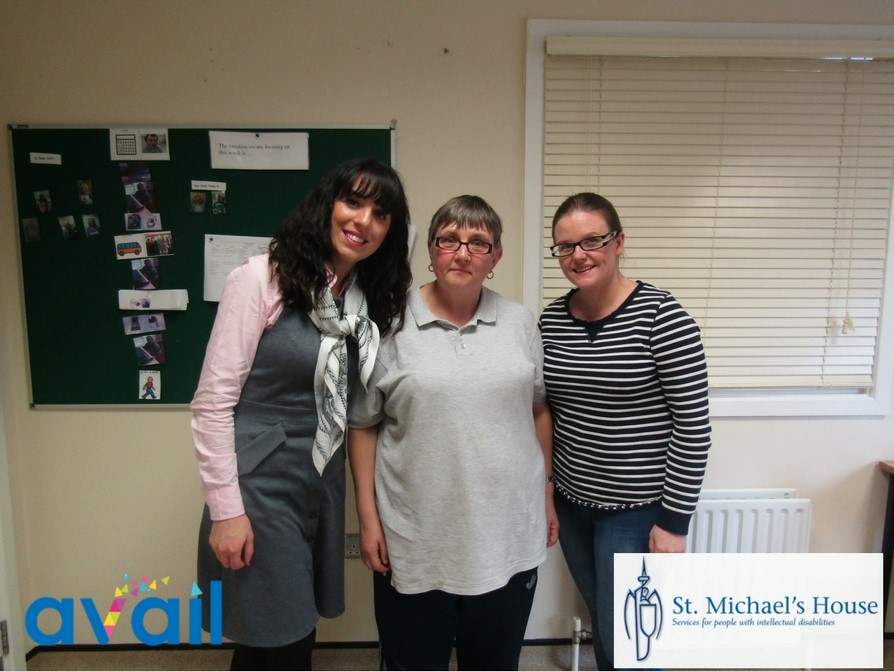 [av_textblock size=" font_color=" color="]
For the first time: I can finally check my payslips!
This is a typical weekly or monthly event for almost everyone. The joy of opening up a payslip to see the money you earned, only to wonder where has it all disappeared to!
Well for Margaret, this wasn't the case. She was working hard and had her wages deposited directly into her bank account (although never knowing how to access her payslips through her gmail account).
If Margaret wanted to check her wages, she had to ask someone to log in and and open the email for her. Can you imagine asking someone to do this for you? It's personal information between you and your employer that should be kept private. Margaret wanted this situation to change!She jumped at the chance to trial avail with St. Michael's House before we launched. Always interested in learning something new—especially about technology—Margaret (along with six others and staff) attended a training session and each identified two goals they wanted to reach and complete independently.
For Margaret, these goals was accessing her payslips, and using a washing machine. Margaret and Emma (facilitator) started creating their task stright away and enjoyed the process of working together, and conducted a task analysis of the steps involved in accessing Margaret's payslips.
Accessing payslips:
Unlock phone
Click on gmail app
Scroll down to see work email
Click to open email
Click on attachment to open
Margaret and Emma created the task using multimedia prompts using pictures, videos, and audio prompts. Margaret, like most of us, is a visual learner.  Actually, 65% of us are visual learners and prefer to learn using visual aids. So we need to ensure when we are teaching that we are focusing on these strengths.
After four times receiving prompts from avail® (and through repetition) Margaret has mastered her goal. She can now access her payslips independently. She is "Delighted" with herself—and so are we. She spent months without access to this personal information, and now three weeks later (because of using the avail® software) she can do this independently! Amazing! Let's hope she has plenty more LARGE payslips to come.
When we spoke to Emma, she noted how easy avail® is to implement. This was a key factor in developing avail®; I wanted it to provide an evidence based learning tool that would guide parents and staff throughout the process without the need for training or expertise. Avail uses principles of Applied Behaviour Analysis (ABA): video modelling, discrete trial training, and fading back prompts. Our avail® learners—when the software is implemented effectively—can achieve siminar goals to those achieved through an ABA or an OT programme.
Many services use task analysis to break down steps. With avail®, you are guided through this process, as it requests the person to enter Step 1 of a task with a prompts and to repeat this process until the tasks is created. Emma found it was beneficial to identify the steps to the task.
So, what's next for Margaret? She is planning on continuing to use avail® to help her sister out at home with the chores, and to expand on her cooking skills.
We can't wait to see what other independent skills Margaret will achieve!
Margaret was delighted to tell us about her experience using avail®,  follow the link for the full account.
Would you like more information about using avail® in your service?
We would love to explore how you can use technology to support your service users. Contact us HERE
[/av_textblock]
[av_layout_row border=" min_height_percent=" min_height='0′ color='main_color' mobile='av-flex-cells' id="]
[av_cell_one_half first][/av_cell_one_half] [av_cell_one_half][/av_cell_one_half]
[/av_layout_row]